Message from the Chair
Dear DSR Members & Friends,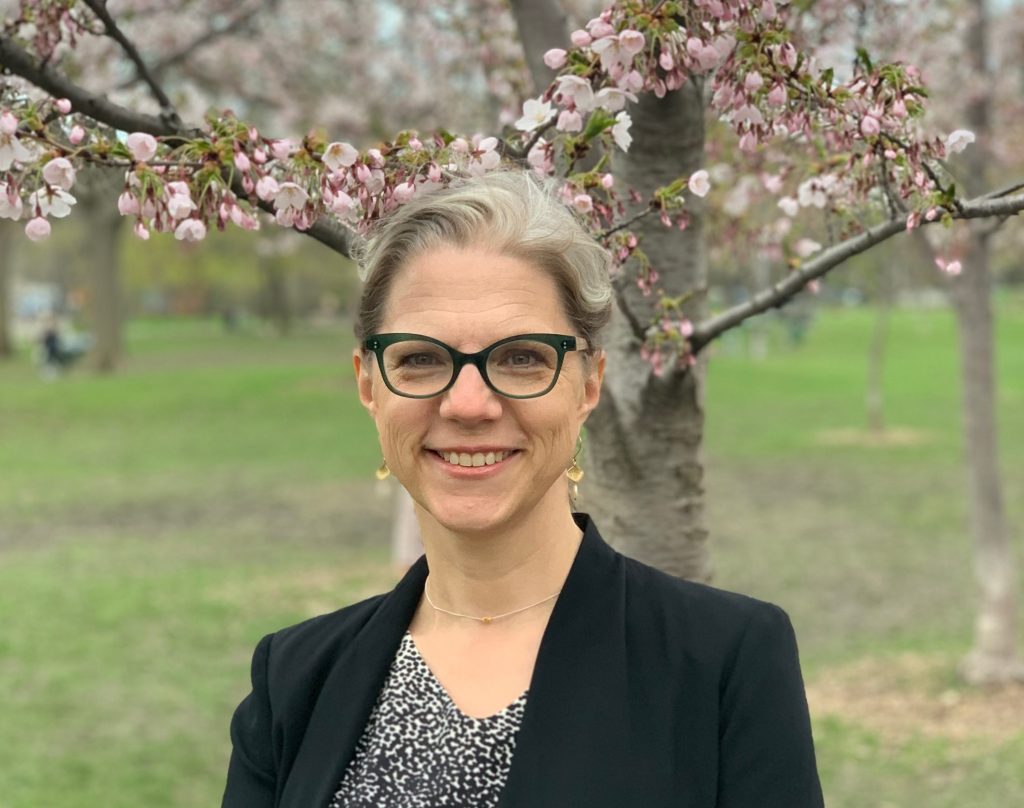 Welcome to the Spring 2022 edition of the DSR Newsletter! As the University opens up and offers more in-person classes and events, we have been making the most of the opportunity to gather as a community. PhD graduates and their families joined us in a celebration in their honour on June 3, before heading off that afternoon to the first convocation ceremonies at Convocation Hall since 2019.
In May, we celebrated the launch of Professor Simon Coleman's new book, Powers of Pilgrimage, in the beautifully renovated Croft Chapter House at University College. And in April, undergraduate students gathered for the first Undergraduate Student Conference, presented jointly by the DSR and the Religion Undergraduate Students Association (RUSA). Students presented papers in the historic Music Room at Hart House — thanks to organizers Professor Sarah Gallant, RUSA president Mukti Patel, and undergraduate assistant Phoebe To. We look forward to hosting more of you for lectures, parties, and other events in 2022-23, and plans are in the works for a gathering at the AAR/SBL in Denver this November.
The past year has been a time of great transition and renewal for the DSR, as we welcomed new colleagues and new students. Professor Nada Moumtaz has been granted tenure and Professors Srilata Raman and Karen Ruffle have been promoted to full professors, all as of July 1, 2022. Professor Ronald Charles began as an associate professor as of January 1 and Professor Nyasha Junior will become associate professor in the DSR as of July 1. Professor Jeremy Schipper will arrive as full professor in both the DSR and the Department of Near & Middle Eastern Civilizations as of July 1; he joined us virtually in April for a launch of his new book, Denmark Vesey's Bible. You can learn more about Professor Charles, and stay tuned for introductions to Professors Junior and Schipper in the fall. In January, we also welcomed Professor Krista Barclay as a part-time assistant professor, working across the DSR and Canadian Studies at University College. I'm also happy to share the news that Professor Alexander Hampton is staying on at the DSR as a part-time assistant professor — we're looking forward to seeing his continued work with the creative birdsong project. We will also be welcoming many new postdoctoral fellows next year, including those we are hosting in collaboration with the Robert H.N. Ho Family Foundation Centre for Buddhist Studies. In bittersweet news, Professor David Novak, the Richard and Dorothy Shiff Chair in Jewish Studies, will be retiring as of January 1, 2023. We look forward to hosting a retirement celebration of his many achievements in spring 2023.
DSR research success continues apace, with Srilata Raman publishing her second book, The Transformation of Tamil Religion, Nada Moumtaz and Naomi Seidman winning SSHRC grants, and many articles, edited volumes, podcasts, and other forms of knowledge sharing launched into the world. PhD candidates are moving on to jobs and postdocs around the world in fields as diverse as Islamic Studies and religion and digital humanities. Siri Hansen has been doing a great job of collecting all this information on the website, so please visit the links below.
As some of you know, Professor Simon Coleman is stepping down after two very busy years as the associate chair, undergraduate, in the DSR (during which he also published a book or two!). Simon's dedication to undergraduate renewal was truly amazing. Working together with Phoebe To, they helped faculty and students navigate the changing terrain of our teaching (quite literally) and put every effort into making sure students and faculty had space to raise their questions and concerns. I am delighted to report that our undergraduate enrolments were up by 52% over last year, and 67% since 2019-20. Thank you to all instructors, teaching fellows, and TAs for your collective effort in making RLG classes welcoming and exciting places to learn, and to RUSA for spreading the good news about RLG classes.
Professor Bart Scott has taken up the role of director of graduate studies with gusto, rebooting the graduate professionalization seminars with an eye to more alumni engagement, so please be in touch if you are an alum who would like to connect with current students. Bart has also put new life into our fields of specialization, and together with Fereshteh Hashemi, accomplished the hard work of overseeing graduate admissions. We have eight new PhD students joining us in September 2022, from Canada, the US and India.
In other good news, the DSR External Review, aka the UTQAP, came to a successful close in April, with the University's Academic Planning and Policy Committee commending us on our "outstanding review." We were fortunate to have four excellent reviewers help us think about our challenges and future plans: Professor Constance Furey of Indiana University Bloomington, Professor Sylvester Johnson of Virginia Tech, Professor David Quinter of the University of Alberta, and Professor Vesna Wallace of UC Santa Barbara. I want to thank faculty, staff, and students for their participation in the process — your contributions were key to making the review productive and successful.
I've been lucky to have done some travelling in the past two months, giving lectures in Copenhagen and Tübingen, and visiting religious sites such as the Mormon Temple and the Museum of the Bible, both in Washington, D.C. As part of my collaborative research project on the public memory of ancient mound sites, I also visited the Newark Earthworks Center in Ohio, the largest site of ancient geometric earthworks in the world. Having the chance to travel again, both to see the world and connect with colleagues, was a true joy. I'd be delighted to hear about where faculty, students, alumni, and friends of the DSR are travelling in your own pursuit of the study of religion — please send us news of your voyages.
As of July 1, I'll be taking a one-year leave from my role as Chair to serve as the William Lyon Mackenzie King Visiting Professor in Canadian Studies at the Weatherhead Center for International Affairs at Harvard University. I'm very much looking forward to trying something new and am deeply grateful to Professor Robert Gibbs for serving as acting chair in 2022-23. It's an honour and pleasure to serve as the Chair of the DSR. I want to thank all the staff, students, and faculty who have supported me in the role, with a very special thank you to Simon Coleman, Ajay Rao, Bart Scott, Tanya Proulx, and Michael Twamley.
I wish you all a relaxing and restorative summer. Please feel free to be in touch with your news!
Pamela
— Pamela Klassen FRSC
Professor & Chair of the Department for the Study of Religion
| | |
| --- | --- |
| | New Faculty & Other Appointments: Faculty and postdocs, plus tenure and administrative appointments. → Read more |
| | Discover DSR Courses: We talk to Naomi Seidman about "Performing Orthodox Jewish Girlhood," the course inspired by the Bais Yaakov girls' schools, and to Robert Gibbs about "Judaism," the course's aims and how uncovering meaning is a collaborative endeavour. → Read more |
| | Honours & Awards: Faculty, students and staff receive fellowships, grants and awards that recognize their contributions to the academy and the community. → Read more |
| | The Write Stuff: Recent publications, including books, articles and blog pieces: our faculty and students are publishing widely. Topics include the Bible's role in the history of slavery, the war on drugs in Guatemala, and the entwined histories of science and religion. → Read more |
| | DSR Faculty Research Websites: Faculty projects are presenting their insights online, covering a host of topics that include student mental health, the mapping of blasphemy, and the re-storying of colonial documents. → Read more |
| | Meet Associate Professor Ronald Charles, who joined us in January. His interests range over religions of Mediterranean antiquity, diaspora studies, religions of the Americas and Turtle Island, and Black communities of biblical interpretation. → Read more |
| | Conserving the pandemic soundscape: nature, music and spirituality. Alex Hampton's collaborative project with DSR students and faculty, the Faculty of Music and the Jackman Humanities Institute resulted in a new musical composition to honour the dawn chorus. → Read more |
| | "Can we get past the past?" A Q&A with postdoctoral fellow Maxwell Kennel about his new book and work on the powerful lines of influence between time, history, politics, religion, and secularity. → Read more |
| | "As we are blown by waves of grief or fires of rage, a global pandemic, climate disaster and social injustice, can we channel our energies into strengths?" Frances Garrett offers tools for understanding and attending to well-being. → Read more |
| | The DSR's inaugural Undergraduate Student Conference on the Study of Religion. An afternoon of student research, community and reflection. → Read more |
| | Celebrating the newest DSR graduates! Congratulations to the Class of 2022. → Read more |
| | Our community: News of DSR alumni and friends. → Read more |