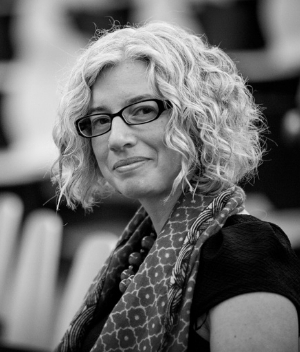 Shari Golberg holds a PhD in Religion from UofT. Her academic work explores feminist approaches to Jewish and Islamic texts and contemporary text-based collaborations between Jewish and Muslim women. Dr. Golberg has developed and taught numerous courses and workshops in university, community-based, and corporate settings on world religions, gender issues, and human rights. 
DSR: You did not start in university as a Religion major. How did your path bring you to the Department for the Study of Religion?  
SG: I started out as an English major at York University, and I was stunned by how much of the Western canon is so focused on stories from the Hebrew Bible and the New Testament. As someone who had a bit of a background in that, I felt I had a significant advantage in my English Lit classes. After graduation I went to live in Jerusalem and enrolled in the Hebrew University of Jerusalem to do an MA in Religious Studies. There was so much history in Jerusalem, where the foundational stories of Judaism, Christianity and Islam come together, I went about learning as much as I could, about my own tradition, Judaism, and about Christianity and Islam. It was the perfect place; how could I not take that opportunity to explore everything that was available to me in my backyard?  
The kernel of the idea for my doctoral dissertation came from doing my master's where I focused on issues of gender in rabbinic literature. I had started to explore Islamic sources as well , and I thought it would be great if I could bring a group of Jewish and Muslim women together to talk about gender in classical Jewish and Muslim texts.  I suspected that Jewish and Muslim women would have a shared sense of dislocation in relation to texts, because of the social and religious legal prohibitions that Jewish and Muslim women often encounter in their religious communities. When I moved back to Toronto I put the word out: "Are you interested in exploring issues of gender and classical religious Jewish and Islamic texts? Would you be interested in exploring these sources together?" It was just a hunch, and if three people showed up, I would consider that a success. But 20 women showed up to my apartment! Ten Muslim women and 10 Jewish women and I realized that I was very clearly on to something. 
That first group was called "When Beruriah Met Aisha". The name of the group imagined a fictional coming together of these two female scholars, Beruriah and Aisha, from each tradition, and what a conversation between these two religious authorities might be.  It was an opportunity for women to freely talk about the intersection of their religious and gender identities, and the text really anchored the conversation.
DSR: And this group would become your doctoral dissertation at the DSR?
SG: I had already been thinking I wanted to go back to school to do my PhD, and 'When Beruriah Met Aisha' became an obvious thing for me to explore; I would study women's engagement in classical religious texts, and the techniques they were using to navigate their way around complicated texts that often marginalized them.  The idea was to take two communities who were often regarded as being at odds with one another and to provide an opportunity to examine the shared history, shared narrative, shared language, shared practices, shared experience of being marginalized, and of violence at different points of history.  There was so much more to be gained from building alliances between these communities and that it seemed to me that that religion, and specifically classical religious texts, were an interesting way to have nuanced conversations between people in these various communities. These focus groups became the ethnographic sites that I used as part of the doctoral work. So much of what I enjoy doing is that community engagement piece, and doing this doctoral work created teaching opportunities for me, which then allowed me to create workshops and conferences under the banner of an initiative called Shema & Iqra': The Jewish-Muslim Text Project, which was about to become so helpful in my career; these initiatives fed one another.  
DSR: What drew you to the public sector after graduating?
SG: After graduating from the Department for the Study of Religion there was an opportunity in the Ontario government to create a learning strategy around issues of diversity, inclusion, equity, antiracism and accessibility. All of this was very exciting to me - it was a nexus of all of my interests. I continue to do this both in the community and within government, creating workshops on bias and privilege, systemic barriers, reviewing curriculum on gender equity, Indigenous reconciliation, and LGBTQ+ inclusion. And I continued to develop my own workshops around religious accommodation and human rights.
Coming from an academic background, I was well positioned to look at a complex problem and figure out the best way to tackle it. I was able to unearth all sorts of assumptions that people were making. So many systems in government have been around for a long time and have been operating in a certain way for years. A lot of people found that the fresh perspective that I brought to policy development to be really important in terms of creating better outcomes for people.
DSR: Where does your interest in antiracism trace back to?
SG: My grandparents are Holocaust survivors and from a very young age I had this sense of duty and responsibility to educate people that othering of people and discriminating against them will manifest itself in acts of hatred, violence, and, in its most extreme manifestation, as genocide. My engagement with antiracism came from experiences in my own ethnic, cultural and religious community, but very quickly became about addressing systemic barriers that other religious communities and other communities of color were experiencing. I was working to try to find ways to dismantle those structural barriers.  I felt that as an educator I could help do that. Although my doctoral work wasn't directly about issues of racism, certainly addressing antisemitism and Islamophobia became a byproduct of the work that I was doing. Since then, I've had the opportunity to delve deeper into human rights frameworks and the intersection of religion, gender, race, ability, ethnicity, and sexual orientation. So all of those things have come together.
The Study of Religion is, by its very nature, interdisciplinary. You are studying history, sociology, anthropology, philosophy and comparative literature. It's all of those things all at the same time. It gives you a very broad lens through which to view the universe and some really unique tools, which are really helpful. It also gives you a vocabulary for understanding difference, and how to be respectful of difference, and how to engage with difference. I think those are really  exciting and beautiful tools, regardless of where your professional life leads you.